ClearFox® SBR Kit
Sequence Batch Reactor Kit
Application: Municipal or commercial wastewater treatment
Application Sizes: 50 to 15.000 PE
Manufactured in: Germany
Our unique SBR system can be installed in a single chamber tank, providing huge cost savings compared to any other SBR system on the market.
We deliver and install anywhere in the world.
Send us your project details and we will send you a quotation immediately.
If you already sell SBR systems or conventional sewage treatment systems then contact us today to grow your business and become our partner or local agent.
Special features are:
1. Tank Requirements:
SBR equipment in kit form to install into any tank configuration [above or below ground]
Can be installed in tanks with 1, 2 or 3 chambers of any shape [subject to minimum volumes]
Systems can be installed in Concrete / GRP / Plastic tanks
Kits can also be installed into existing tanks for upgrade works
Simple installation requires no previous experience as kits are preassembled
A low cost, high quality solution for tank manufacturers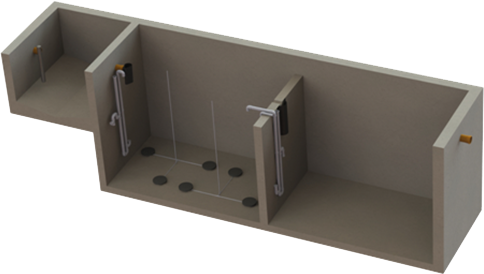 3. Effluent Standards:
SBR is a controlled process as wastewater is treated in batches – allowing for extremely high effluent quality
Any effluent standard can be achieved with add on chemical dosing [P], UV, etc all easily added via the PLC
Process control allows for designs to achieve any required effluent quality with denitrification, P reduction, UV, etc
Designed to EN12566-3 and DWA/ATV design criteria
Industry leading effluent and power consumption
4. Advantages:
Simple modification of the process where necessary via the PLC
Lower OPEX than many traditional processes [MBBR, etc]
Easily transportable equipment kits, when comparing to fixed film equipment
How does a Clearfox SBR Watewater plant function?
SBR refers to sequential batch reactor. This technology is a controlled wastewater treatment process. Batches of wastewater undergo treatment in sequence. This control process allows each batch of wastewater to undergo treatment for any required time frame. This enables the achievement of any level of treatment as a result.
In brief, the typical steps in the SBR process are as follows:
The activated sludge treatment plant with SBR has an upstream coarse separator that serves as storage for the primary and secondary sludge and to buffer the inlet water. Sludge filling and Clearwater extraction are effected by means of airlift pumps. The plants control system recognises four main states in the Normal cycle.
Filling phase: the sewage enters the first chamber and any large solids are retained. The filling pump then conveys waste water into the second chamber which is the biological reactor
Purification/Aeration phase: the waste water is circulated in the SBR reactor using air fed in through the membrane plates and the bacteria are supplied with oxygen, thus supporting the actual biological treatment by microorganisms. Short aeration and rest [non-aeration] phases alternate and are controlled by the computer software. An activated sludge develops with millions of microorganisms which completely break down the wastewater.
Sedimentation/settling phase: a rest phase follows. The live or activated sludge sinks (sedimentation) to the bottom of the water column. This allows a clarified water zone to form at the top of the reactor chamber.
Clearwater Extraction phase: a Clearwater pump conveys the purified waste water that remains above the "Clearwater discharge point" to the plant outlet, lowering the water level in the reactor. The settled activated sludge is then transferred back into the first chamber and the process repeats with the next batch of wastewater.
A complete purification cycle takes approximately 7 hours
Energy-saving cycle: The purification cycle programme continues running unabated, but with a shorter aeration phase, which reduces the amount of energy required. Depending on the inlet quantity to the prechamber, the programme then decides fully automatically, whether the energy- saving cycle should continue, or whether it should switch back to normal operating mode.